Gouverneur St. Lawrence County Fair 2018
Heuvelton Alumni Marching Band Horn Line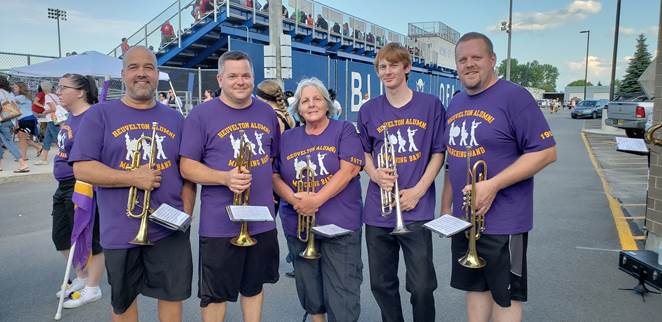 The band was formed this summer to honor Mr. David Poulton, who passed away last fall.  He established the band in 1964 and was their director until his retirement in 1992. The band will be performing in a special grandstand concert immediately following the Firemen's Parade! Our VP/CFO Kim Adams is pictured center. See you at the fair !!

---
GS&L Ugly Sweater Contest 2017
On December 1, the employees of Gouverneur Savings & Loan wore their most favorite – and ugliest – Christmas sweaters or Christmas tie, all for the sake of their favorite charity.
For two weeks, the customers of GS&L voted for their favorite ugly Christmas sweater, and the charity of the employee with the most votes received a $125  donation!
This year we had a tie in the GS&L Ugly Sweater for Charity Contest, but fortunately both contestants chose the same charity, so the local FRIENDS 4 POUND PAWS was the big winner of the $125 donation!!!
Congratulations to Vicky Mott and Denise Given who tied for the highest votes at 14 each.  Tracy Stowell and Roxanne Todd tied for 2nd place at 12 votes each, and  Stacey Durand came in a close 3rd with 10 votes.
Thanks to everyone who participated.   It was great to see the creativity and as usual, the generosity and enthusiasm of the bank's employees is second to none!!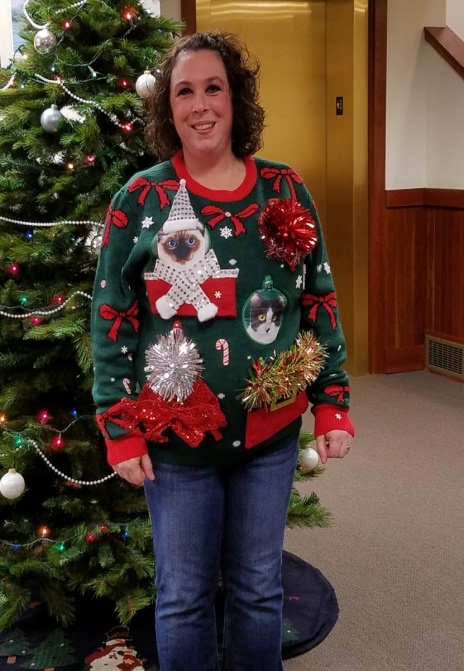 Denise pictured above and Vicky pictured below. Congrats Ladies !!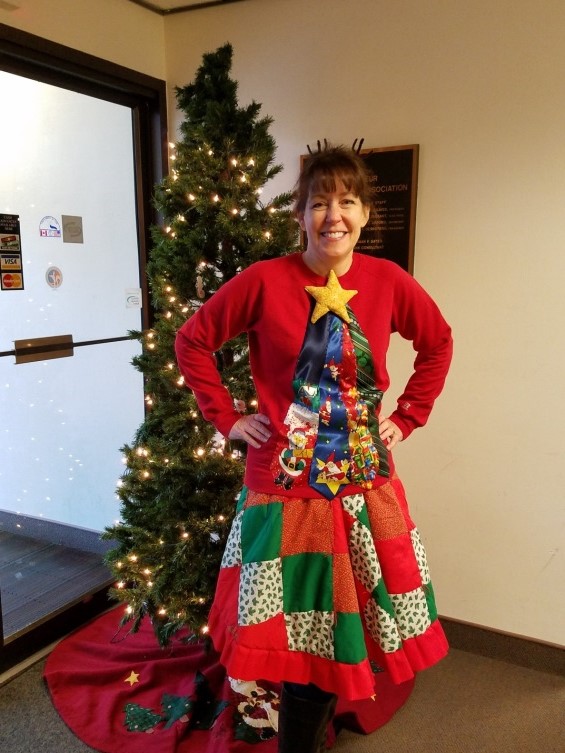 ---
Beware of Gas Pump Card Skimmers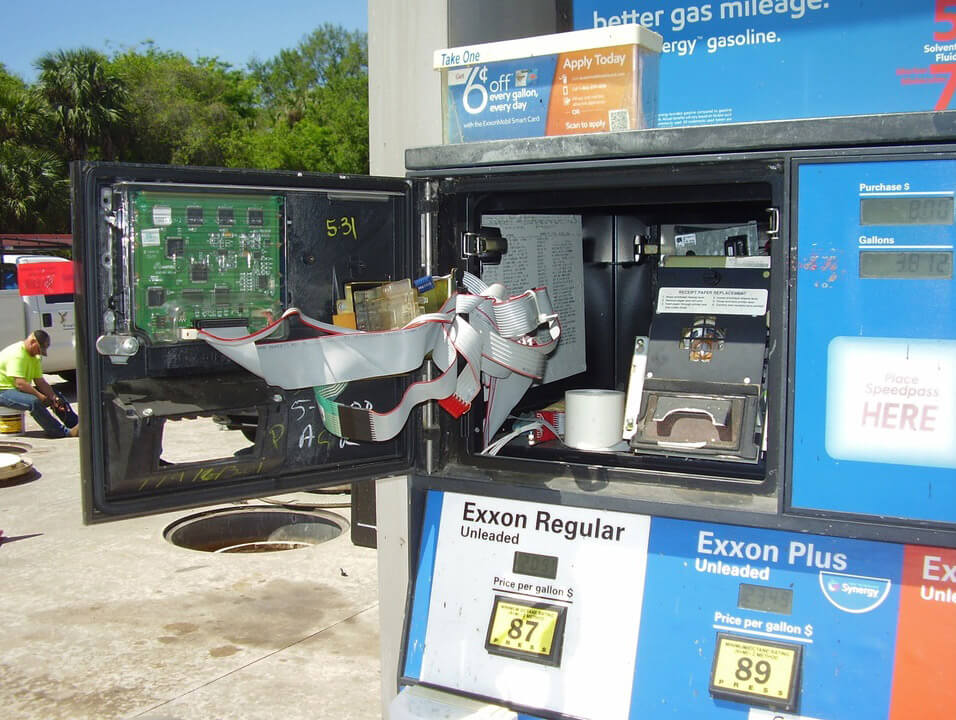 Gas Pump Card skimmers are often hard to detect because as you can see, they are inside the enclosure. There have been reports of these skimmers in operation in St. Lawrence and Jefferson counties in December 2017. You can protect yourself by still using your card, but pay inside versus at the pump. Happy Holidays !
---
GS&L Employees in the spirit of Halloween 2017.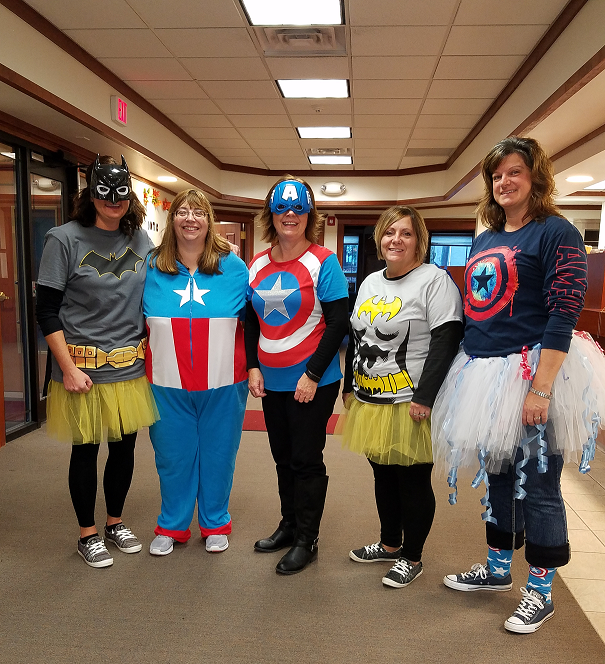 ---
13th Annual Cream Cheese Festival in Lowville.
GS&L set up a booth at the 13th annual Cream Cheese Festival in Lowville, Not far from our lending office at 7550 South State Street . What a beautiful day for the event and there certainly were a lot of people and vendors. We look forward to next years festival.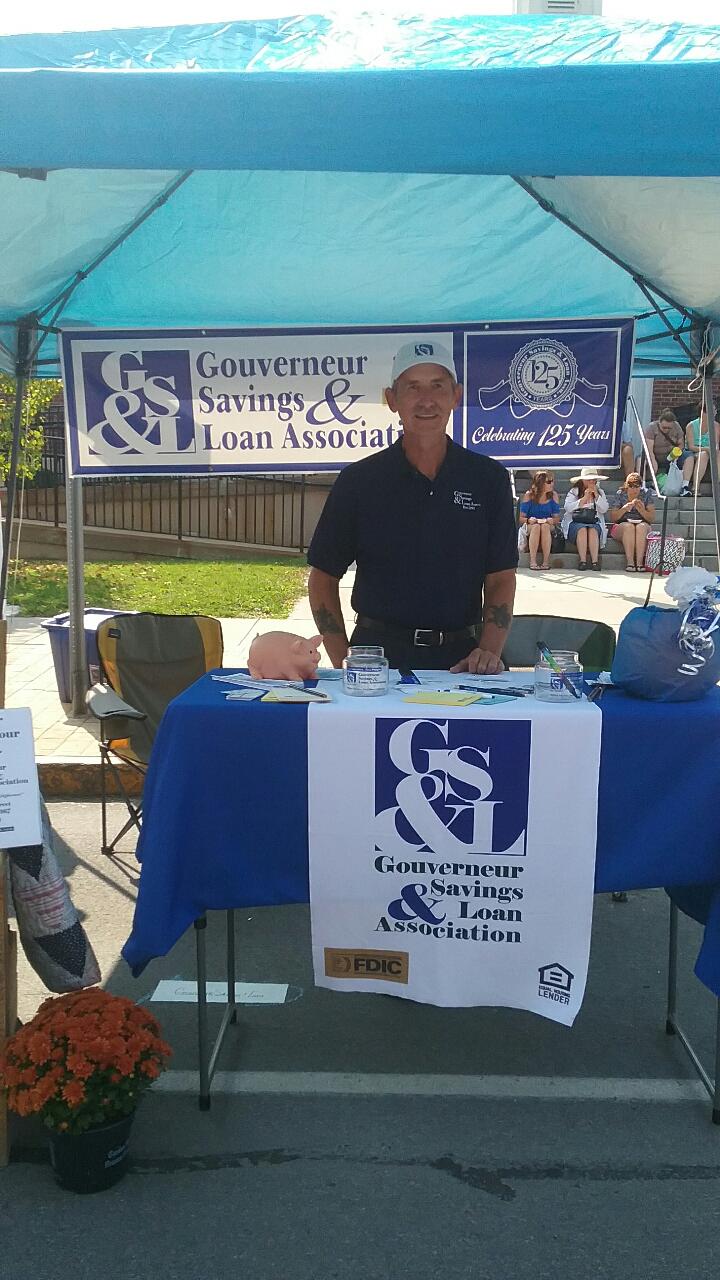 ---
125th Anniversary Celebration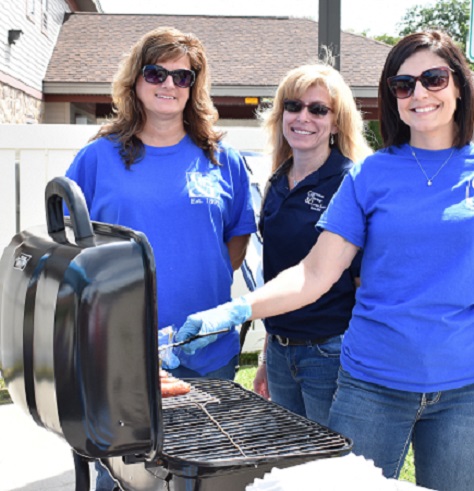 The last Friday in July ended the month long celebration of our 125th anniversary. It was a beautiful day for a cookout. At the grill are from L-R Colleen Canell, Amy Canfield and Jessica Hentz. These 3 ladies organized the month long celebration and did a great job !!
---
Antwerp Twilight Fun Run.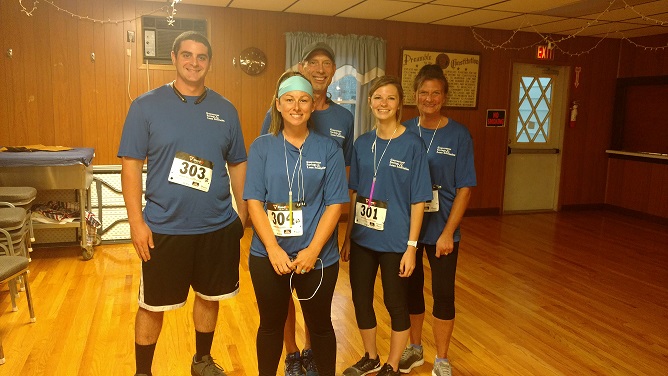 GS&L employees participated in the Antwerp Twilight Fun Run. From left to right, Jim Campanaro, Cortney Sharpe, Chuck Vanvleet, Kassandra McCarn and Roxanne Todd. Despite the weather forecast, It was fun!!
---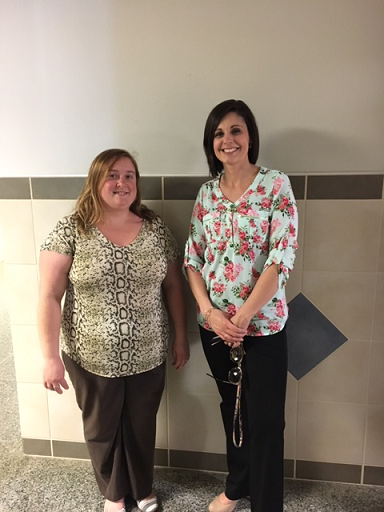 Teach Children to Save Program
Jessica Hentz and Danielle Jessmer, from Gouverneur Savings and Loan, were invited to participate in a lesson on "How to Save" at the East Side School, Gouverneur, NY, on June 14, 2017.  The lesson was well received by the 2nd grade class.
Jessica Hentz and Danielle were also invited to St. James School, Gouverneur, NY, on March 22, 2017.  They explained the importance of saving and how to save to the 5th grade class.   
---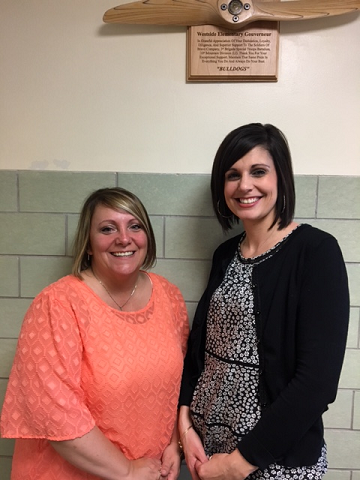 Teach Children to Save Program
On May 16th Jessica Hentz and Cathy Schiszler, tellers from Gouverneur Savings and Loan, explained to the 4th and 5th graders at West Side School, Gouverneur, NY, the importance of saving.  The lesson was on "How to save".
---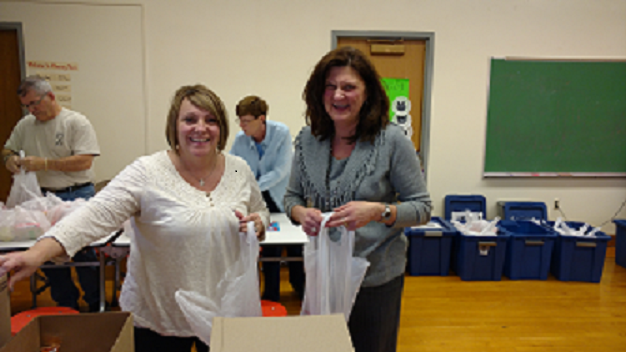 Gouverneur Savings and Loan is a contributor to the Kiwanis Backpack Program.  Cathy Schiszler and Roxanne Todd, tellers from Gouverneur Savings and Loan, recently volunteered their time to help the Kiwanians.  The backpacks are filled with food and distributed to school children to take home for the weekend. 
---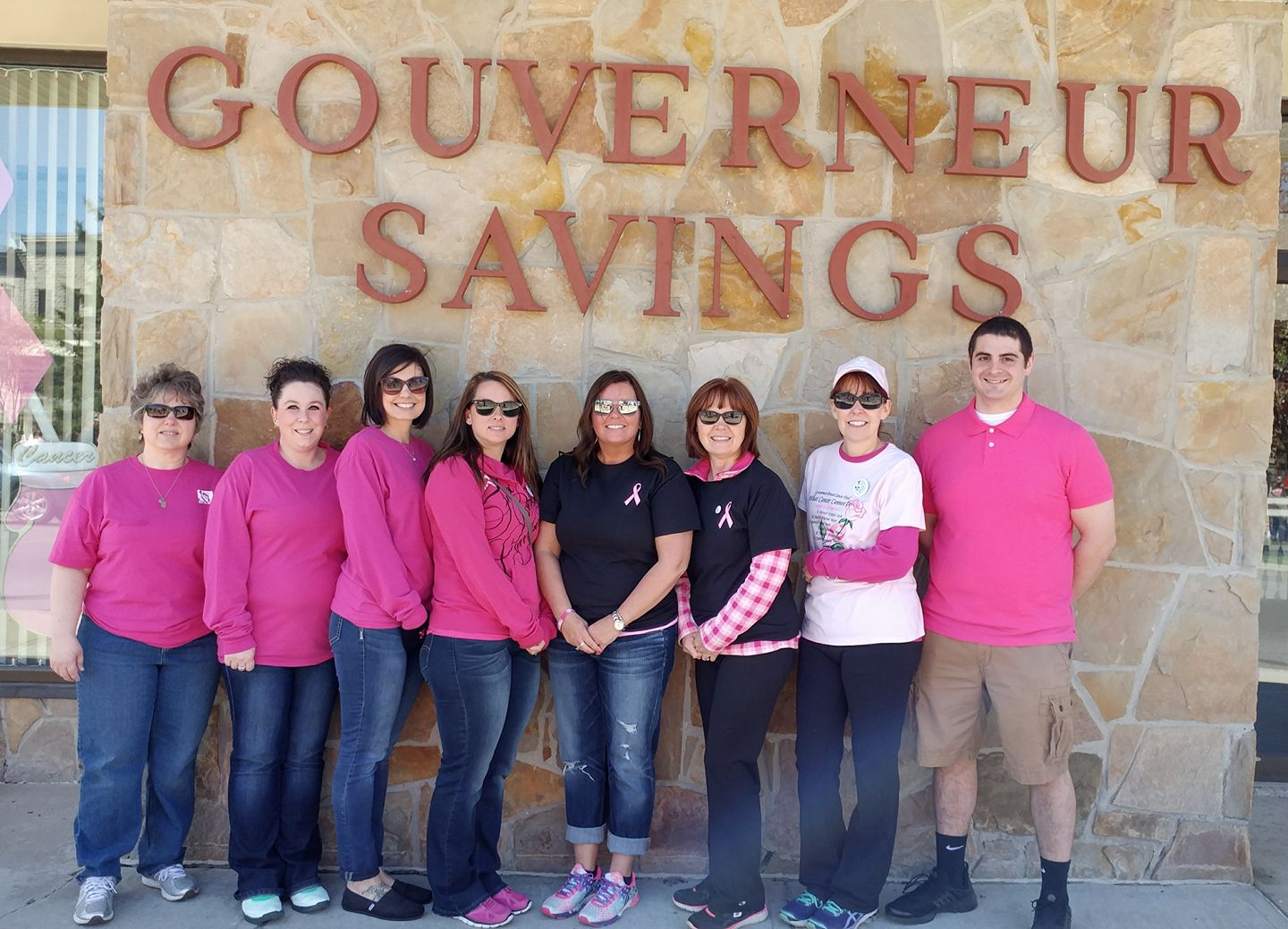 Employees from Gouverneur Savings and Loan participate in the 16th annual Gouverneur Breast Cancer Walk on May 20th 2017.
---